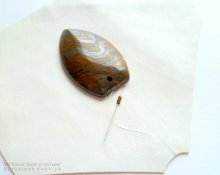 DARNING!
The graduator is exclusively available to familiarize himself with the crafts of the skill and the brushing. This bell is a copycat!
Hello!
My name is Burzalov Xenia. In this classroom, I want to talk about some of the techniques and techniques I use to work on my jewelry.
Material used:
Tiger eye
Ocamenel tree
Yasma Mukait
Yasma " Space "
Labrador
Rivoli Swarowski
Pearl
Rauchtopaz
Bikons from Czech crystal
Stress tape
Biser Japanese and Czech, different colours, shapes and sizes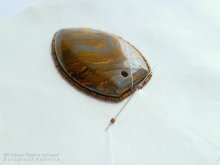 Skin substitution (for the product itself)
Paper (for sealing)
Natural skin (for the revolving side of the product)
Lock(carabin+ chain)
Nite Fireline
Clay Moment
Okay, let's go.
On a piece of skin substitute, I'm drawing a straight line of pencil to correctly locate the product centre. The tiger kebaton, leaving a sufficient number of places on top and side for other stones. Then I'm starting to smash the tiger eye of the basser around, down on a needle of 3 biserinas. I'm sewn up, then I'm pulling a needle in front of the last biserina, I'm wearing it, and I'm going back to down three biserinas... There is also a need to ensure that an even number of biserines end up: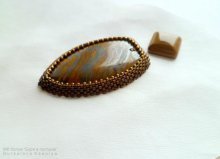 Next, I'm starting to throw a stone at the Mozaika. I'm putting on the needle one bead and wearing one.
To secure the caboshone, add more. Little biser. No15 on the edge of the flight and close the opening of the bushina stone.
Up top of the square bowl of the flukat...
...and I'm also on Moses. On the edges of the mukait yacht, the caboos of the " landscape " yachms, I shall fly and close the openings between the stones of pearls:
Next, I'm starting to put rocks around the biser:
The kabhoshones of the occal tree:
Oplete:
In the bottom of the ring there will be a suspension - a labrador:
I'm smashing the stone and making the first detail.
On the details, I sometimes draw boundaries if the basser is different:
The central part of the collar and the labrador will be connected to the crystal of Swarowski. Rivoli is also on the Mozaika.