Since there's a little child in our family, I was very interested in the idea of creating an unstable tree walking on the Internet.
The idea is that the tree doesn't steal glass balls, but small soft toys made by soft toys. with your hands.♪ When I thought about the safety of my son (which is about 1 year and 5 months), I also decided to sew the tree toys, re-insured just in case (maybe the son won't touch the tree)
But when I sat down a new year's suspension toys last week, I thought they could be used not only to steal a tree (which is relevant to families with little children) but also to steal walls and windows, and of course, they could be given to relatives who know New Year. as gifts♪
I'm treating the people they say: a boot without boots. I'm kind of in the middle of a handful, ordering a toy of my neck, sending a charitable bazaar sometimes. And as soon as the guests come (celebrities, relatives, friends and friends) and there's nothing to give, and there's nothing to do with the whole house...
That's why I had the idea of creating gift basket with hand-delivery
(grunts, curtains, boots, needles, etc.) So that everyone who comes to the guests will give something in hand. I'll tell you the secret, there's something in my gift basket that lies (and, to be honest, her role is as long as it's a normal package). Of course this basket will have to be filled all the time:
For starters, I've decided to put a lot of new yearly toys to hold them for presents.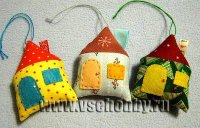 Started sewing out of the fetttre (the nurse you can see below) but then quickly turned into beautiful cotton tissue.
New Year's souvenirs from cotton
I stitched, and ended up with a whole bunch of underwear toys: 40 toys underweight + 3 little earrings to steal tild. What's in that bitch?
Doms (who, by the way, I forgot to put a bunch of toys in the first picture):
The hearts and the fuzzy ones, and the long, plus three little hearts:
(Tilds) and valens:
Oh, my God.
Stars and bells:
Birds:
And this blue bird couldn't take a picture in the general stash, because it flew early (in warmer edges) with a hill.
I'm sorry the toys aren't photographed in a suspended state, but they're in a fit-up, but they haven't done it yet.