After the release of the article on the lashing of the bicellen phenals, many readers wanted to get diagrams of such phenals.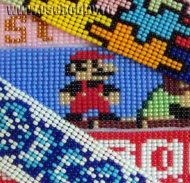 In my collection of schemes, there were quite a lot of sketches for the pineapples that I couldn't use, even though I really liked them. Some of them are too long, others are too wide. Sometimes the drawing's not clear, sometimes I don't like colors... All these schemes have been out of business for a long time, until I'm out of control and redesigned to the right size.
I want to share this with you today. I think they might need someone else. If you keep your computer, the schematics will be bigger than you see in the article.
I want to repeat again: the original drawings are taken from the Internet. I think many of them know each other. I just drew them back. Thus, all the rights to these schemes belong not to me but to their original authors.
Well, more detailed about the flight. bracelets from the beaser at the station and especially the construction of braces for such braces You can read this article of our website.
See also: