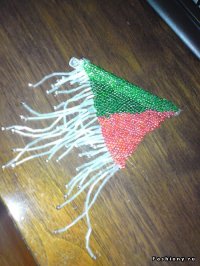 In this article, I want to introduce you to the old work of the biser I did when I was in grade 6. I was given a good book by Carol Taylor's "Biser." Detailed pictures of the process of creating these decorations will not be possible, as will the photos of the tools by which this is done, because then the digital cameras were not very common. But the key photos of the book and the short guide are out.
All right, slice. It's a basser, a forest and a thin needle. It's the first row. One color or one pattern. He goes on to one biserin, and the needle goes on in the past: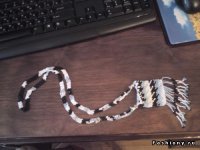 When the thread ends, a knot is made and a new one is tied to the previous basserina.
When the basser is finished, it can be tied to the same leather on the basis of the cap. I've got this from an old broken one.
Next, a chick who can fold up any pet, and if you don't miss the size, it's a cell phone. He's doing the same technology as described above. To make it round, the first row to tie around a cylindra. It's just a broken card. We'll have to sew down to make the bottom.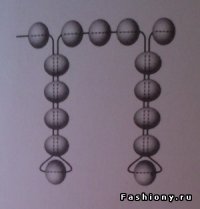 The chemol and the rope are made separately, then stitched. The bachroma is done as follows:
By chaining a forest for one of the basserin bottoms, the right amount of flowers comes down, then we go back to any point through the same bush.
Here's the flow chart.
The necklace. My tool used to do that was broken during repairs a year ago, so I bring pictures found on the Internet.
I had a similar, hand-whipped dad.
That's the kind of stuff you can buy at the store.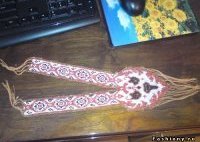 Then the necklace is tied to the neck to keep the neck.
That's it. colour chart♪
And this... in seven years I never thought it was) The necklace is short, it's long for the bracelet... I thought I'd put a t-shirt on a t-shirt, but it's pathetic that maybe I'm gonna break it all during the laundry. So it's on the interior shelf. It's on the station, too. If you look on the left, you can see where I have the right color.